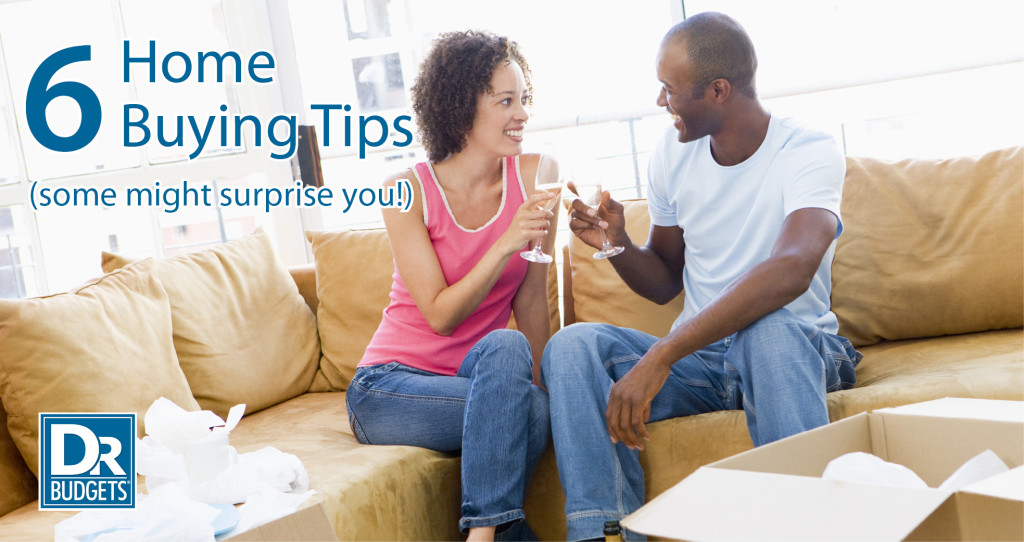 By Daniel Rodriguez | Dr. Budgets
This month, we sat down with Bobby Martins, a Real Estate Broker with nearly 20 years' experience in San Diego. Bobby shared his home buying tips – all of which are Dr. Budgets approved – and some of them might surprise you!
Professional Details
Name: Bobby Martins, GRI, ABR, CRS, CDPE, EPRO
Occupation: Real Estate Broker
Company: Keller Williams Realty
Location: San Diego, CA
1) Select a Great Agent
Do your homework to  find a real estate agent who fits your needs. Most home buyers are brand new to this, but the data is out there to help you. Bobby says to "go to Zillow to find out how many sales that agent has done. Is that the best agent for you? Maybe not, but it's a starting point." Interview a minimum of three agents and ask for written documentation of their sales. It shows that they have a good track record. Finally, he says that if you talk with an agent who makes predictions about the market or how much your home will increase in value "You should RUN. They're not supposed to and there's no way they can know for sure."
2) Ask Lots of Questions
Here are some questions to ask an agent:
Do you have a support staff? Who? How many?
How many sales have you had over the last 12 months and over your career?
Have you ever been sued or gone to arbitration?
What are the main points of your marketing? (This is a question for a seller's agent)
What's your favorite thing about working with buyers?
But what Bobby says is most important is to "find somebody you like and connect with – somebody you trust. It's the biggest financial purchase of your life." And he stressed again the importance of interviewing multiple agents… "Be careful not to end up with a nice guy who can't negotiate contracts. Right now, there is very low inventory… if you've been looking for 2-3 months and find your dream home, you want somebody who can close the deal."
3) Tap Into Your Agent's Professional Network
An experienced real estate agent has a vast network of professionals who can help you. To whom should I talk to about where to start with pre-qualifying for your mortgage? To whom should I talk to about title insurance? Which escrow company should I use? Do you know someone who can show me how to save for the down payment? A great agent will have answers to all of these questions.
4) Think Long-Term
Bobby says that when he starts working with people, he starts a conversation… "I want to start forecasting… Do you have kids? Do you want kids? Are you going to stay in San Diego?" If you're looking for a 10-15 year home, you might want to stretch a little.
It might surprise you that a Money Coach would encourage you to stretch your budget in order to buy a home (that better serves your long term needs), but Bobby makes a really good point "If you buy a home to fit your immediate needs and then outgrow it, you have to move again.  Commissions, closing costs, hiring movers… it can all add up to tens of thousands of dollars. You can see how it makes sense to stretch a little financially to buy a long-term home."
But there's a fine balance. You don't want to fall in love with a home you can't afford. "It's the kiss of death," says Bobby "you should never look at properties you can't afford." To prevent that, Bobby has his clients work with lenders to get pre-approved, and then they work to map out a game plan to start identifying suitable properties.
5) Buy a Home Close to Where You Work (Even if It Costs More)
There can be a lot of extra costs to owning a home located far from work. Some are clear, such as higher fuel costs and additional wear and tear on your car. Other costs are less obvious. If you buy a larger home in the suburbs, it costs more to heat/cool and furnish it. And if your home has a big side yard, you might buy an RV! Bobby says "live close to where you work. If that means living in a townhome, then so be it. You'll save a lot of money on gas, you can go home for lunch, and your quality of life is so much better."
Another aspect to consider is your lifestyle. Bobby points out that "if you like to frequent restaurants and clubs downtown, but buy a home in Scripps Ranch, you'll start to see Uber expenses adding up."
6) OWN
Everybody's situation is different, but for many people, it makes sense to own. Bobby says to own "as soon as possible – as soon as a lender will give you money. The numbers need to make sense, but it's so much better to own." From a budgeting standpoint, owning can be great because your mortgage payments stay the same (as long as you get a fixed mortgage) over time. You do have to have an extra line item in your budget for repairs and maintenance (i.e. plumbing, air conditioning, roofing, etc.), which many people fail to account for when they purchase a home.
Bobby asks, "as a renter, do you feel that rents are going to go up in the next 2-3 years, or down? Everybody says up… you're already paying a mortgage, it's just not your own."
And now, the important questions! It's a tradition to ask our guests some fun questions…
What is your favorite ice cream flavor?
Girl Scout Cookie Samoa-flavored
If you didn't live in San Diego, where would you live?
Orange County or Los Angeles, as close to San Diego as I could.
What is your favorite color?
Baby blue… it says "trust me" 🙂
If you weren't a real estate broker, what would you be doing?
I don't know… an actor maybe?
Thank you so much, Bobby, for sitting down with us and sharing your expertise! These are some great home buying tips. I have known Bobby for many years and refer to him for my real estate questions. If you are looking to purchase or sell a home and need a few real estate agents to interview, please contact me. If you have any other home buying tips, please share them in the comments section below.