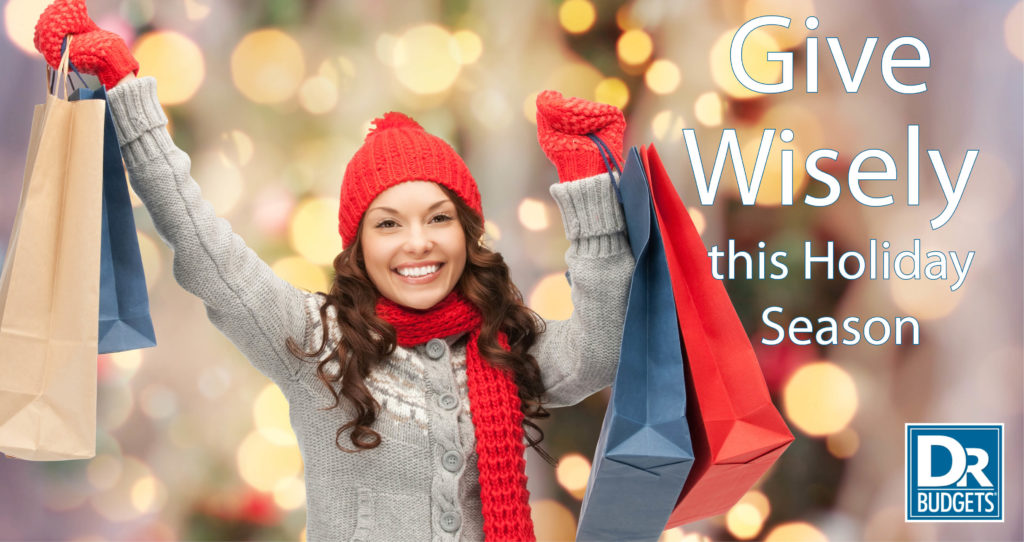 By Daniel Rodriguez | Dr. Budgets
It can be easy to get caught up in the spirit of the holiday season… going into credit card debt of course! Kidding aside, it is very easy to overspend during the holidays because we are in a generous mood, and it seems like every company in the world is trying to get us to spend our hard earned money. This is probably why 37% of people said that going into debt is one of the top 5 causes of holiday stress. It doesn't have to be a stressful time if you put some thought into it ahead of time and set some parameters for yourself. Below are four things you can do to give wisely this holiday season.
Make a List.   It's amazing how powerful it is to make a list before you go gift shopping for the holidays. I recommend you make a list that includes everyone you are buying a gift for and the amount you plan to spend per person, then add it up. If the total amount is too much, then make some adjustments before you start buying presents.
Don't Use Your Credit Card.   If you only use cash or your debit card this holiday season, then it will be very difficult for you to get into credit card debt. Think about it… do you really need to go into debt to buy things for the loved ones in your life? Is there a way for you to be more thoughtful about your giving and at the same time spend less? The people who truly love you probably don't want you to be stressed out about your credit card debt.
Give What They Want.  Give to the loved ones in your life how they want to be given to. You have to know your audience when you are giving. For example, my wife and I took the Love Languages test and ranked "Receiving Gifts" very low, so showering each other with gifts isn't the best way to express our love for each other. Instead, we are able to show each other we care in more meaningful and affordable ways. Be very mindful of how to express your love and appreciation to the people in your life… sometimes you don't need to spend a lot of money for them to know you care.
Charitable Giving.   If you are giving money to charity, ensure that most of the money you are donating actually goes toward the cause they are supporting (this article can help you). Also, if you can donate and receive a tax deduction as well, even better! My wife and I give the things we don't need to Goodwill, which gives us a nice little tax deduction every year. Lastly, check to see if you can get your monetary donation matched to double your contribution (sometimes companies have programs where they do this).
These are just a few tips on how to give wisely this holiday season. If you have some other tips, please share them with us in the comments section below. If you know somebody who went into credit card debt because of their holiday spending, and now needs some direction on how to pay it off, put them in touch with us. Happy holidays!
By Daniel Rodriguez | Dr. Budgets
Since we are in the middle of "giving season," I wanted to share with you the top three areas where we give and why they are important to us…
Boxer Rescue Los Angeles.  We give monthly to Boxer Rescue because that is from where we rescued our dog Benny. They are a great organization that is very near and dear to our hearts for obvious reasons.
San Pasqual Academy.  Through Dr. Budgets we give to the financial literacy program at San Pasqual Academy here in San Diego. For every spending plan completed, Dr. Budgets gives $25 to support that program. Financial literacy is very important to me because I want our youth to learn how to make smart financial decisions early in life.
Friends & Family.  We also set aside money every month to support the causes that are important to the loved ones in our life. If a friend is participating in an MS Walk, we can contribute to the cause. If our teacher friend is raising money to buy something for her classroom, we have money for that too! Having this money set aside in our spending plan allows us the flexibility to support these causes without affecting other spending or savings goals.
Where do you give and why? I would love to hear about it in the comments section below!
By Daniel Rodriguez | Dr. Budgets
For many of us giving, whether to charity or to our friends and family, is very important. Even though our heart is in the right place, it can be easy to get carried away (how did you do on Black Friday this year?). This is why planning your giving is so important. In my spending plan and the ones I create for my clients, I have line items for gifts and charitable contributions to create room for generosity.
It is easy to get swept up in the excitement of the sales around this time of the year, which can disrupt even the best of intentions when it comes to sticking to a "giving" budget. Add in birthdays, weddings, baby showers and other special occasions that come up during the year, and you can see how quickly the gift-spending adds up. It is important to plan for these expenses at the beginning of the year so you can allocate enough money to your gifts budget. I often see budget amnesia when it comes to this area of people's spending. Birthdays and the holidays happen every year, and yet many people fail to plan for these inevitable expenses. This lack of planning can then lead to spending your entire holiday bonus, or worse yet, getting into (or deeper into) credit card debt. So my tip is to plan for this expense as you would for any other expense.
Planning your charitable contributions is also very important. It feels as if charities are asking us for money left and right this time of the year. If you don't deeply think about which charities matter to you and why, then it can be easy to give aimlessly. My wife and I have a few charities that we give to consistently every month. We have also made room in our spending plan to give when our friends or family members raise money for a cause they believe in. Creating flexibility in our spending plan allows us to give without having to take from other areas in our budget or sabotaging our goals.
When you create your spending plan for next year, think about planning your giving. Think about the gifting and charitable contributions you are planning to do during the year, then put a realistic figure in those categories. This will allow you to be generous while simultaneously achieving your other spending and savings goals. As for the remainder of the current year, do the best you can by determining how much you will spend on gifts during the holidays, then stick to it! If you have any questions contact me or leave a comment in the comments section below.