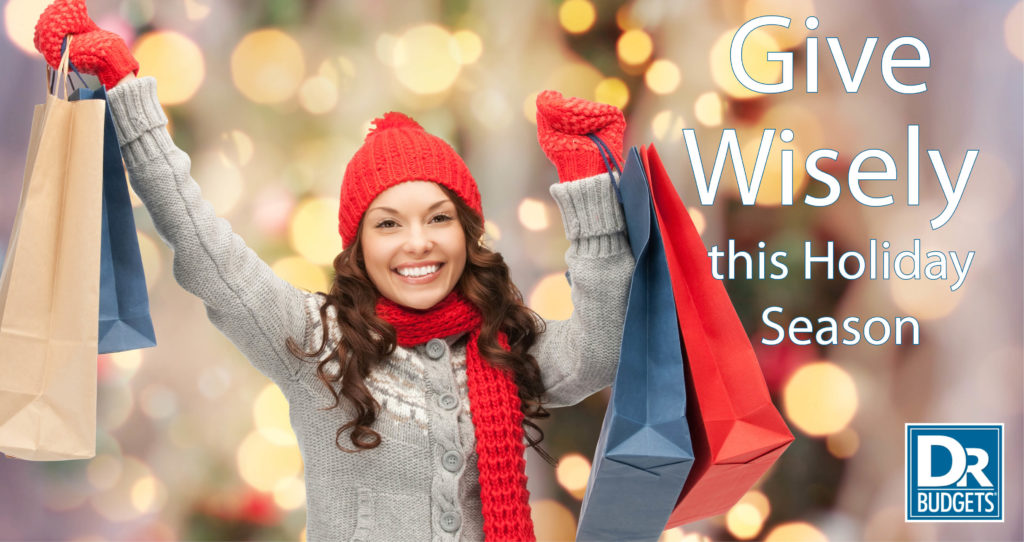 By Daniel Rodriguez | Dr. Budgets
It can be easy to get caught up in the spirit of the holiday season… going into credit card debt of course! Kidding aside, it is very easy to overspend during the holidays because we are in a generous mood, and it seems like every company in the world is trying to get us to spend our hard earned money. This is probably why 37% of people said that going into debt is one of the top 5 causes of holiday stress. It doesn't have to be a stressful time if you put some thought into it ahead of time and set some parameters for yourself. Below are four things you can do to give wisely this holiday season.
Make a List.   It's amazing how powerful it is to make a list before you go gift shopping for the holidays. I recommend you make a list that includes everyone you are buying a gift for and the amount you plan to spend per person, then add it up. If the total amount is too much, then make some adjustments before you start buying presents.
Don't Use Your Credit Card.   If you only use cash or your debit card this holiday season, then it will be very difficult for you to get into credit card debt. Think about it… do you really need to go into debt to buy things for the loved ones in your life? Is there a way for you to be more thoughtful about your giving and at the same time spend less? The people who truly love you probably don't want you to be stressed out about your credit card debt.
Give What They Want.  Give to the loved ones in your life how they want to be given to. You have to know your audience when you are giving. For example, my wife and I took the Love Languages test and ranked "Receiving Gifts" very low, so showering each other with gifts isn't the best way to express our love for each other. Instead, we are able to show each other we care in more meaningful and affordable ways. Be very mindful of how to express your love and appreciation to the people in your life… sometimes you don't need to spend a lot of money for them to know you care.
Charitable Giving.   If you are giving money to charity, ensure that most of the money you are donating actually goes toward the cause they are supporting (this article can help you). Also, if you can donate and receive a tax deduction as well, even better! My wife and I give the things we don't need to Goodwill, which gives us a nice little tax deduction every year. Lastly, check to see if you can get your monetary donation matched to double your contribution (sometimes companies have programs where they do this).
These are just a few tips on how to give wisely this holiday season. If you have some other tips, please share them with us in the comments section below. If you know somebody who went into credit card debt because of their holiday spending, and now needs some direction on how to pay it off, put them in touch with us. Happy holidays!
By Jennifer Rosson for Dr. Budgets
This month we  are excited to have Jennifer Rosson as a guest blogger for Dr. Budgets sharing her tips on shopping smart! She is a true expert on shopping. To learn more about Jennifer, check her out at styleyourlifeblog.com. Here are her five ways to save money on your wardrobe…
1) Take a good look at your closet before you shop!
Most people tend to purchase the same type of items again and again… I call this your "uniform". Because of this, your wardrobe isn't as adaptable as it should be. What items could you add to grow your wardrobe and make it more versatile?   Make a list of these items and look for them when shopping.
2) Think about your Cost Per Wear.
Keep this very simple formula in mind when shopping!
You take the cost of the item and divide it by the number of times it is worn, adding in any maintenance cost (dry cleaning, laundering tailoring).
For example:
Dress on clearance $19.99
Wore it once (1)
Dry-cleaned ($5)
$19.99/1+$5= $24.99
Cost per wear = $24.99
Designer Jeans $189
Wear it once a week for 12 months, 52 wears
washed every other wear $1.00
$189/52 +$.50 = $4.13
Cost per wear = $4.13
So sometimes those "deals" aren't really deals at all. Think about this next time you are shopping 🙂
3) Consider shopping consignment.
I love consignment shopping. Find a credible consignment store that carries higher end items. This is a great way to pay up to 70% less on designer and contemporary brands. Closely check for any flaws, fading, etc. because these stores often have a final sale policy.
Two I recommend: The Real Real (online) and My Sisters Closet (San Diego)
4) Shop sale sections.
Okay before you say yes, of course, that's obvious….
Let me clarify. Shop sale sections at high-end stores and shop with your list (from #1). Many people shop sale sections; the difference is shopping them with direction.
Shop sale sections in stores a level above where you'd typically shop. Why? Because you can get higher quality pieces for the same price you typically pay. Let's say you typically shop at Banana Republic and you are willing to pay $150 for a dress. Well then head on over to Bloomingdale's sale section and I assure you will find a higher quality dress for around the same price.
The second thing to keep in mind when shopping sale….
USE YOUR LIST!!! It is not a bargain if you don't need it!!
Remember cost per wear?
5) Don't shop out of desperation.
We've all been there, you have an interview or event and you have nothing to wear. You rush out the day before and purchase something to get you by. You settle because you couldn't find something you loved. The result: you don't feel fabulous at your event because you don't love your outfit and you will probably never wear it again.
How to you avoid this happening to you? You know your lifestyle, you know what types of events, presentations, and interviews you have in a typical year. When you see a piece of clothing you love and you know you'll have an occasion to wear it, buy it then! Don't wait till you have the specific event.  The event will come believe me and you'll already have the perfect piece hanging in your closet!